Buy credits

Take a leading role in the fight against climate change. Buy DAC
carbon removal credits to offset your unavoidable emissions.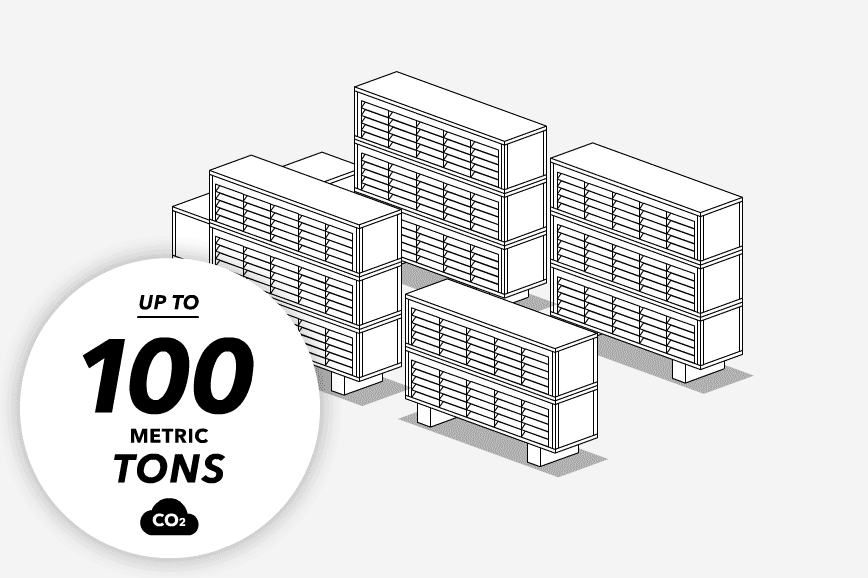 Individuals & small businesses
Instantly buy our carbon removal credits through Patch, our e-commerce partner.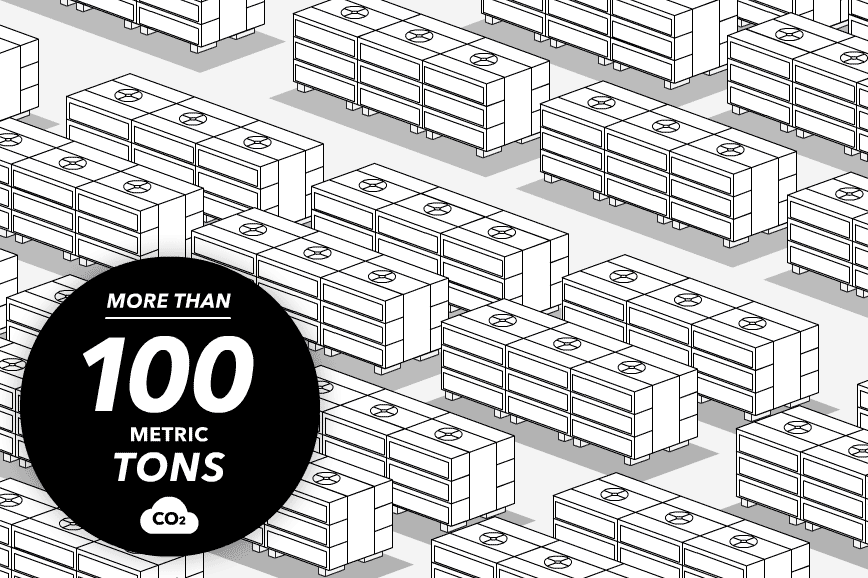 Large companies / enterprises
To buy large quantities of DAC carbon removal credits, contact our development team.
Why buy our DAC carbon removal credits?
They're considered the gold standard for a reason. Four, actually.
Measurable
The exact amount of CO2 our DAC systems capture is precisely metered and measured.
Verifiable
For each carbon removal credit we deliver, we provide a complete third-party verification report.
Permanent
The CO2 we capture is securely locked away for more than 1,000 years in deep saline aquifers via Class VI injection wells.
Additional
Without your financial support, DAC carbon removal wouldn't otherwise occur. They're 100% additional.
Project Bison
How Project Bison generates carbon removal credits
Project Bison generates carbon removal credits by capturing CO2 from the atmosphere and permanently storing it underground.

Project Bison uses CarbonCapture's modular direct air capture (DAC) systems to filter CO2 out of the air. The captured CO2 is then injected into deep saline aquifers via Class VI injection wells, a regulatory designation established by the EPA and managed by the Wyoming Department of Environmental Quality.


Frequently asked questions
Here are some the most asked questions about carbon removal credits, Project Bison, and Patch.
General questions
---
What is direct air capture and why do we need it?
Direct air capture (DAC) refers to technologies that remove carbon dioxide directly from the atmosphere. DAC helps combat climate change by offsetting emissions in order to achieve carbon neutrality or even net negative emissions.
DAC is valuable because it deals with the main cause of global warming: the excess carbon dioxide in the atmosphere. To keep global warming to under 1.5°C by 2100, the IPCC reported in April 2022 that carbon removal technologies like DAC are necessary (along with emissions reductions) to achieve climate goals.
---
How does your technology work?
Our machines use solid sorbents to capture CO2 via a process called temperature-vacuum swing adsorption (TVSA). In the adsorption step, fans pull air through the system, and the sorbents collect CO2 until they are full. In the desorption step, they are heated to release the CO2. A vacuum pump removes the released CO2 for processing or storage. After this, the sorbents are cooled and are ready to collect CO2 again.
TVSA is a long-standing method for industrial gas separation that we have adapted to efficiently remove carbon dioxide from the atmosphere.
---
How do you permanently sequester the carbon dioxide you capture from the atmosphere?
The CO2 we capture is injected deep underground for sequestration via Class VI injection wells.
When carbon dioxide is injected into Class VI wells, it is sent deep underground into suitable geological formations such as deep saline aquifers capped by hundreds of feet of impermeable rock that prevents CO2 from ever migrating to the surface. Storing carbon dioxide in Class VI wells is considered permanent because of the nature of the geological formations where the wells are located.
The EPA established its Class VI well classifications specifically for carbon sequestration; companies who seek a Class VI permit must meet stringent regulatory requirements to ensure the safety and effectiveness of long-term carbon dioxide storage.
---
What are carbon removal credits?
A carbon removal credit represents the permanent removal of one metric ton of carbon dioxide from the atmosphere. Carbon removal credits are purchased by individuals and organizations that seek to offset their unavoidable or legacy emissions.
---
How do you generate carbon removal credits?
Project Bison, our Wyoming-based direct air capture facility, will use our modular DAC systems to filter carbon dioxide out of the atmosphere. The captured CO2 will then be permanently stored by sequestering it in deep saline aquifers via Class VI injection wells. One carbon credit generated for each ton of CO2 removed and sequestered.
---
Why can't we just plant more trees?
Planting and safeguarding trees plays a critical role in the battle against climate change. But relying solely on trees is no longer sufficient, there just isn't enough land. Further, climate change has resulted in droughts and wildfires — disruptions that have significantly impacted the dependability and long-term durability of tree-based carbon removal. Consequently, we must pursue a two-pronged approach: intensify nature-based carbon removal initiatives like afforestation while also scaling innovative technologies like direct air capture.
---
Why remove carbon dioxide in Wyoming and not in more polluted areas?
On an annual average basis, carbon dioxide is well-mixed throughout the atmosphere, so there's little variation from place to place. (According to NOAA's Global Monitoring Lab, the average concentration of carbon dioxide in the atmosphere in 2022 was 417 parts per million.) This means that we can situate our DAC facilities to optimize for other requirements, such as availability of permanent storage, clean energy, inexpensive land, etc.
---
Shouldn't we reduce industrial emissions first?
In order to achieve international climate targets, we must do everything we can to reduce emissions immediately. Unfortunately, point source carbon capture and other means of reducing industrial emissions won't get us to net zero on their own. To keep global warming to under 1.5°C by 2100, the IPCC stated in April 2022 that carbon removal technologies like DAC are necessary to address historical emissions as well as provide a high-quality option for offsetting unavoidable emissions.
---
Your support has a huge impact. Early purchases of nascent technologies like DAC carbon removal credits play a vital role in scaling up the technology by providing financial certainty that enables long-term planning and encourages rapid innovation and technology improvements. Early buyers are vital to bring down costs of DAC in the future so that the DAC industry can expand to meet our climate change goals.
---
How do I know you're permanently removing carbon dioxide? Is there any third-party verification?
Our credits will be certified under an International Carbon Reduction and Offsetting Accreditation (ICROA) compliant standard. ICROA is a leading industry accreditation program committed to enhancing integrity in the voluntary carbon market in support of the IPCC 2015 Paris Agreement goals. ICROA certifies best practices in greenhouse gas emissions reduction and offsetting. A third-party auditor will certify that 1) the credits we deliver meet the ICROA standard, 2) that a credit has not been sold more than once, and 3) that our project has not had unexpected leakages.
---
When will the carbon removal credits I purchase be delivered?
We are currently taking advance commitments for credits that will be generated in 2026 and beyond (we've sold out earlier years).
---
Do I get any documentation for the credits I purchase?
When your DAC carbon removal credits have been generated, we will provide you with a certificate as well as a report that documents the amount of net carbon dioxide captured and sequestered, a full accounting of any emissions created as a result of our processes, and a verification that no leakages have occurred.
---
Where is your company based?
We're based in Los Angeles, California, where we're building our team and developing our direct air capture technology. Our first large-scale carbon removal project is in Southwest Wyoming.
---
Purchasing our credits from Patch
---
Patch is an e-commerce software platform we've partnered with to make it fast and easy for individuals and small businesses to buy carbon removal credits (up to 100). For large companies and enterprises, contact us directly.
---
How do I purchase carbon removal credits via Patch?
Click here and you'll be redirected to the Patch website where you will be able to purchase our 2026 vintage credits.
---
What does the purchase process look like?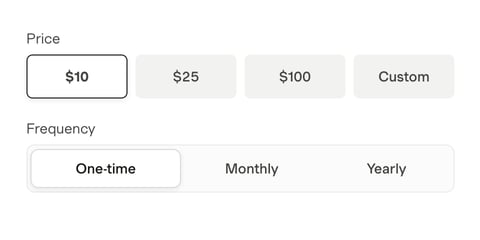 Determine the number of credits you would like to purchase (each credit is equal to one ton of CO2 removed from the atmosphere).

Select the dollar amount or choose thecustom amount that corresponds to the number of credits you would like to purchase


Choose your frequency (one-time purchase or recurring each month or year)


Click Continue to proceed to payment


---
Patch charges a 6% fee that covers payment processing costs, order placement, status tracking, and fulfillment.
---
What methods of payment are acceptable?
Patch accepts all major credit cards or Google Pay.
---
Will I receive a receipt or certificate?
Upon completion of your order, Patch will provide an order summary with a link to download your certificate. This certificate page is dynamic and will track your order status as it moves toward fulfillment.
After your purchase, you will receive periodic updates from us to keep you up-to-date on any important announcements.
---

You are about to be redirected to Patch where you will be able to purchase our 2026 vintage credits. We partner with Patch to make it simple for our customers to purchase our credits securely online. If you have any questions during the purchase process, we recommend you read our Purchase FAQs below before proceeding.
Let's start the conversation
Let us know more about your carbon removal credit needs, and someone from our team will get in touch with you very soon.